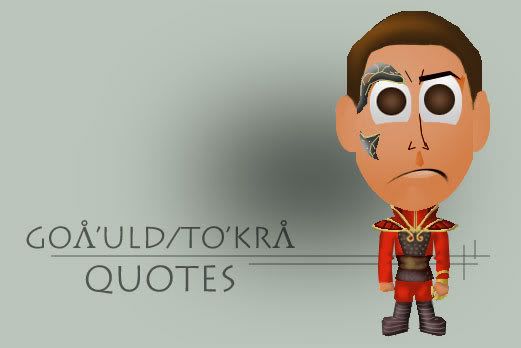 List your favorite Goa'uld or Tok'ra Quotes below and I'll add them here
Or just quotes about them
CHILDREN OF THE GODS
Hammond: "I know all about that, but your report said this Ra was in fact some
kind of alien that lived inside a human body."
O'Neill: "Yeah his eyes glowed, that was our first clue."
POLITICS
Senator Kinsey: If they're so strong, why did you switch sides in the first place?
Teal'c: Because, what is right cannot be measured in strength.
TOK'RA
Jacob Carter/Selmak: Apparently, I'm the oldest and wisest among us.
Sam Carter: Oh geez.
SERPENT'S SONG
Jack O'Neill: I can't help you there. That's between you and your god. Oh, wait a minute. You are your god. That's a problem.
SUMMIT:
Jacob Carter/Selmak: How's it going?
Daniel: Oh, swell, it's kinda like Goa'uld Mardi Gras around here.
Daniel: So, how are you gonna get me in?
Jacob Carter/Selmak: Yu will be among the System Lords attending the meeting.
Sam Carter: I thought you said he was going in as a slave.
Jacob Carter/Selmak: The System Lord, Yu.
Sam Carter: Little joke there.
Jack O'Neill: [Dryly] Funny.
Aldwin: Are you interested in Tok'ra engineering?
Jack O'Neill: Oh. Interested doesn't quite describe how I truly feel.
Aldwin: You're welcome to join us.
Jack O'Neill: Thank you Aldwin, but I have to go help Teal'c... wait for Daniel.
REDEMPTION
(Mocking): "Yeah, 'Hey, Anubis, this is you agent, you're playing it way
over the top, can you get serious, please?'" --Dr. McKay
CURE
"Glowing eyes, cliche behavior, evilness, that kind of thing." --Jack O'Neill
WARRIOR:
K'Tano: I honor he who would kill his god. And to his brethren of the Tau'ri, slayers of Ra, Hathor, Satesh, Heru'ur, Sokar, Cronus and Apophis.
Jack O'Neill: Well... somebody's been keeping score!
NEW ORDER:
Dr. Elizabeth Weir: It's unfortunate you're being recalled. I thought we were making such good progress.
Camulus: Your demands were ridiculous. We had no choice but to terminate negotiations.
Dr. Elizabeth Weir: Well, give my regards to Baal!
ICON
"Short form? They're a parasitical alien race that steals advanced technology
and rules via fear and intimidation. Has a penchant for melodrama." --Daniel
Jackson
RECKONING:
Baal: You dare mock me?
Colonel: Come on Ba'al, you should know. Of course I dare mock you.
STRONGHOLD
"Ah, yes. The whole "god" issue. Maybe we did take it a little too far, but
can you blame us? We gave you strength, vitality, long life. I know you don't
quite see it that way, but no matter. It's all in the past now." --Ba'al
"I am your god!" --pick a goa'uld, they've said it...
Got any more? pretty soon here we'll vote on our favorites